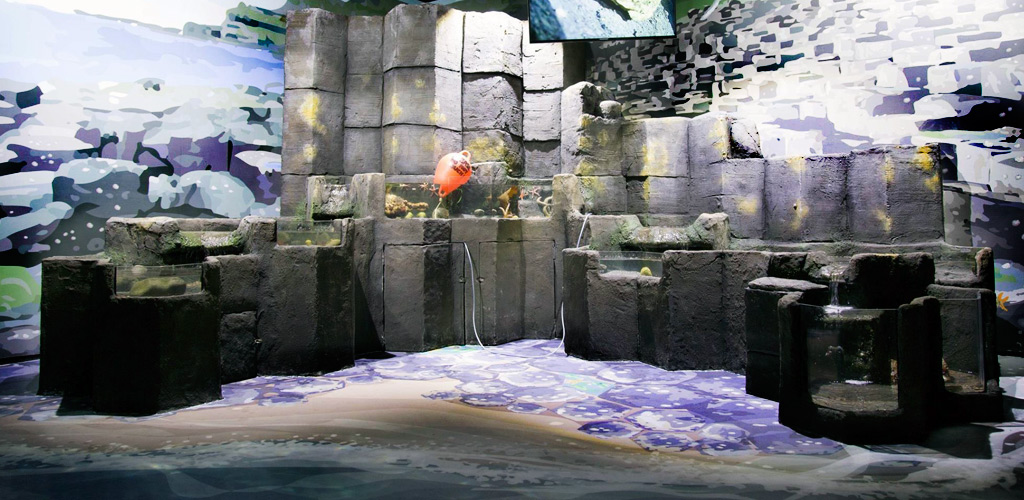 Sea life exhibition design and display graphics
Weymouth Sea Life Adventure Park launched a new innovative space in 2016, called the "New Ideas Zone", and features three exhibition displays; Glow, Electricity and Rockpool.
Freeway Projects was commissioned to design a variety of exhibition display graphics and large scale illustrations, as well as a series of interactive touch screen which gives information about the creatures, their habitats and also allows visitors to give give their feedback.
A Tidal 4D Rockpool Experience
This exhibition was built to resemble the Giants Causeway. It has sensory features such wind, rain and tides and is home to temperate creatures including starfish, crabs and sea urchins. There are hand-held cameras which allow the visitors to spy on the crabs and anemones from below the surface, and then project their images on the large screens dotted around the room.
Freeway Projects designed the wall and floor graphics for this exhibition. The two large wall illustrations resembles the Giants Causeway with rock pools, sea gulls and sea creatures – each wall illustration cover an area of 5m x 3m.
The floor graphic, which is representing a tidal beach with Giants Causeway rocks, is covering a square area of 5m x 5m.
You can read more about the touch screens and the user interface design we did for the SEA LIFE 'New Ideas Zone' here.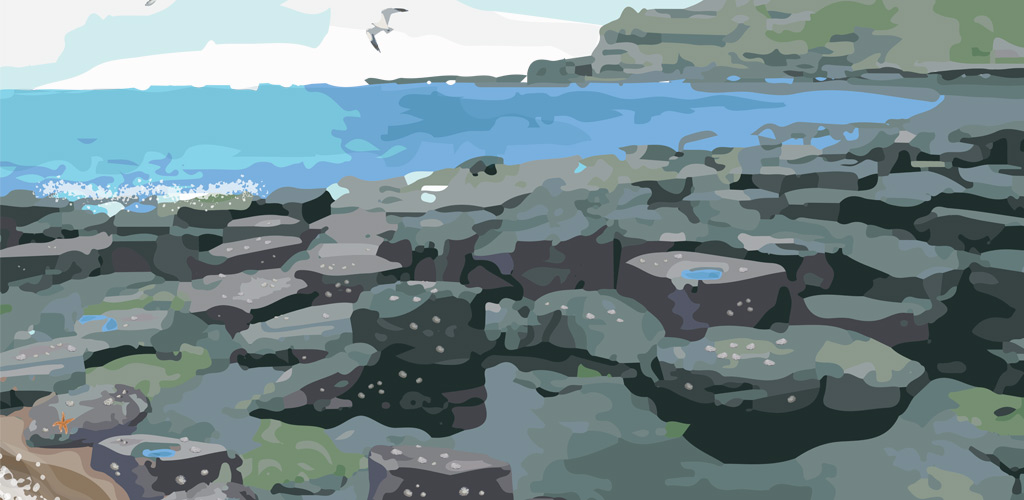 Large scale illustration for the back wall in the rockpool area featuring a Giants Causeway.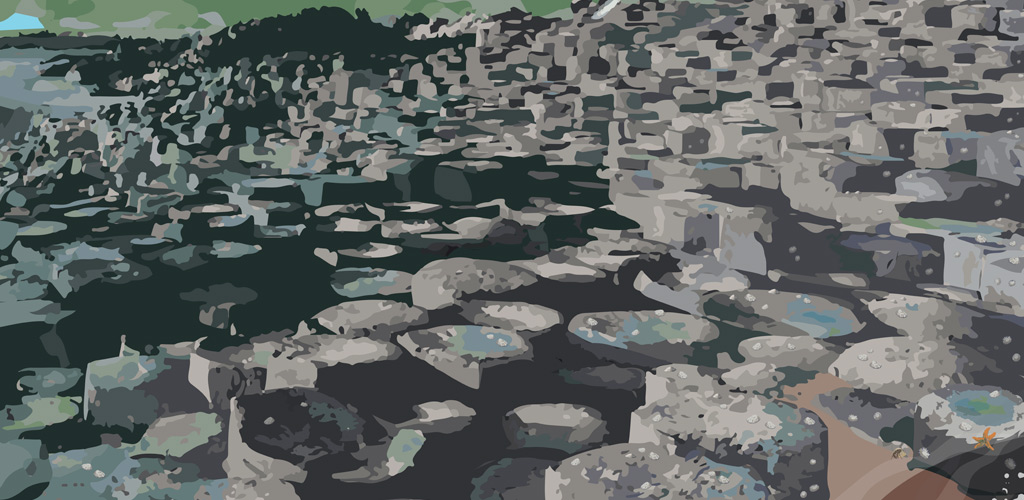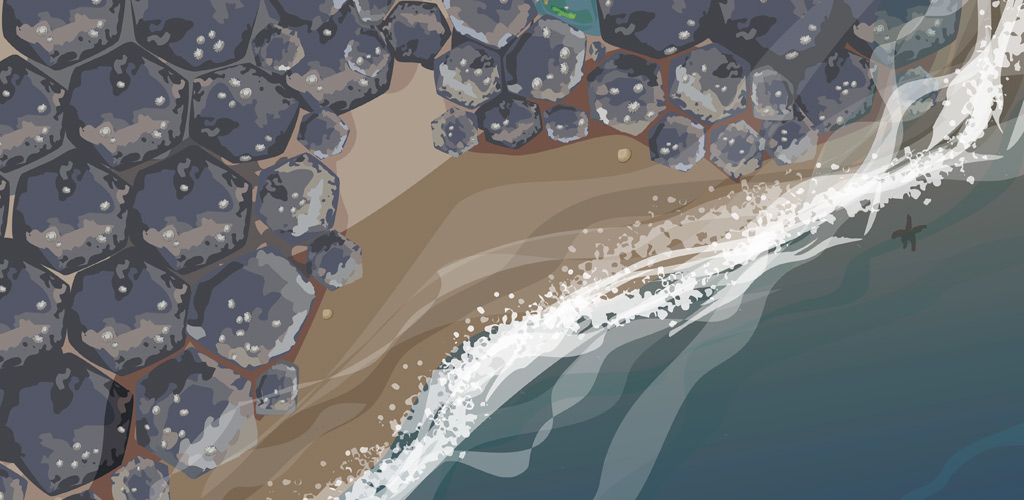 Large scale illustration for the floor featuring a tidal beach with Giants Causeway rocks and sea creatures.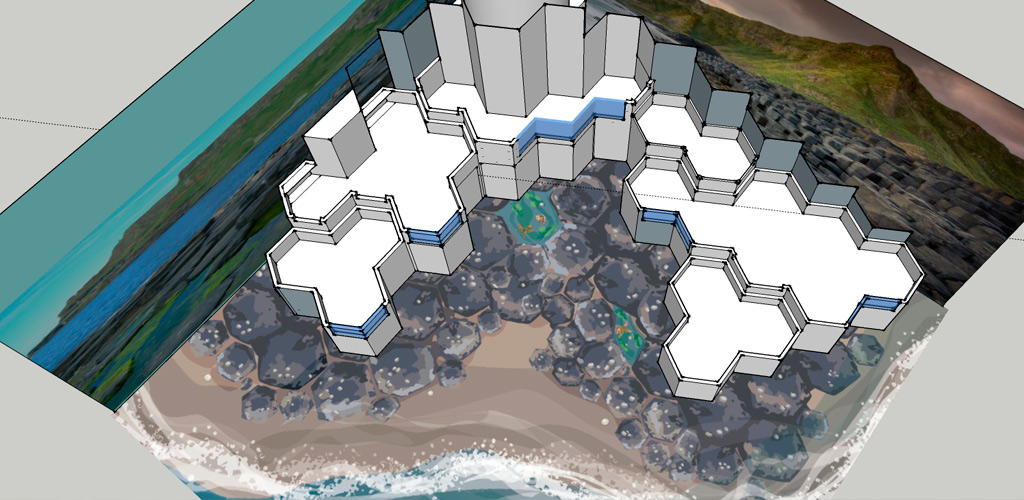 A mockup of the exhibition area showing how the designs will look and with the 3d Gigant Causeway rocks in place.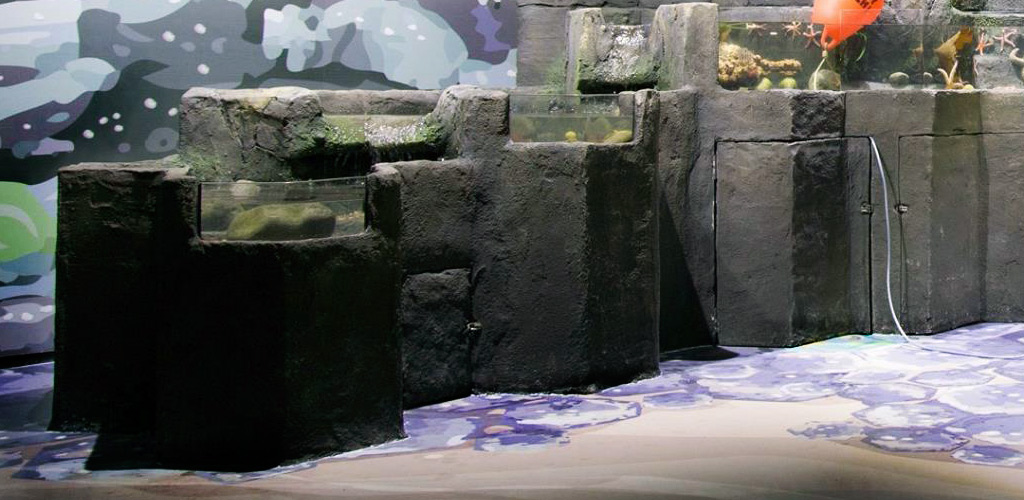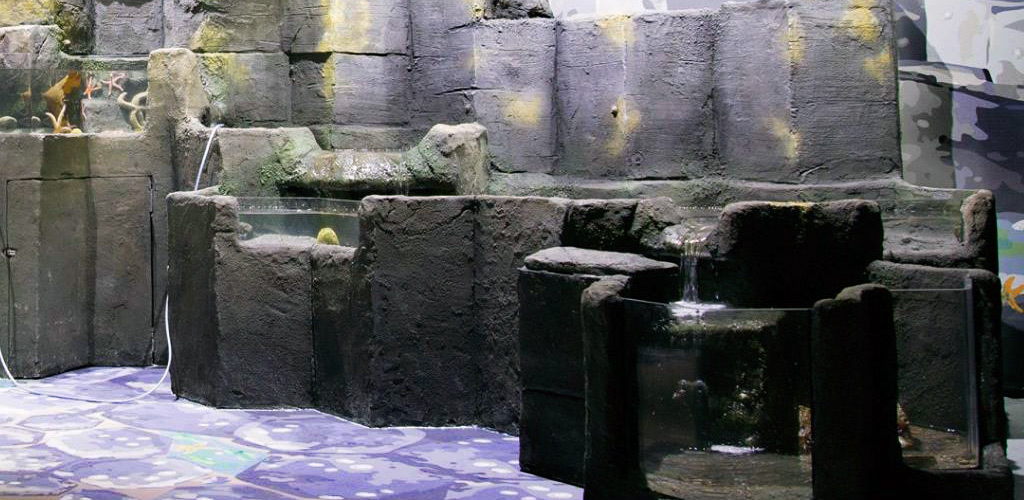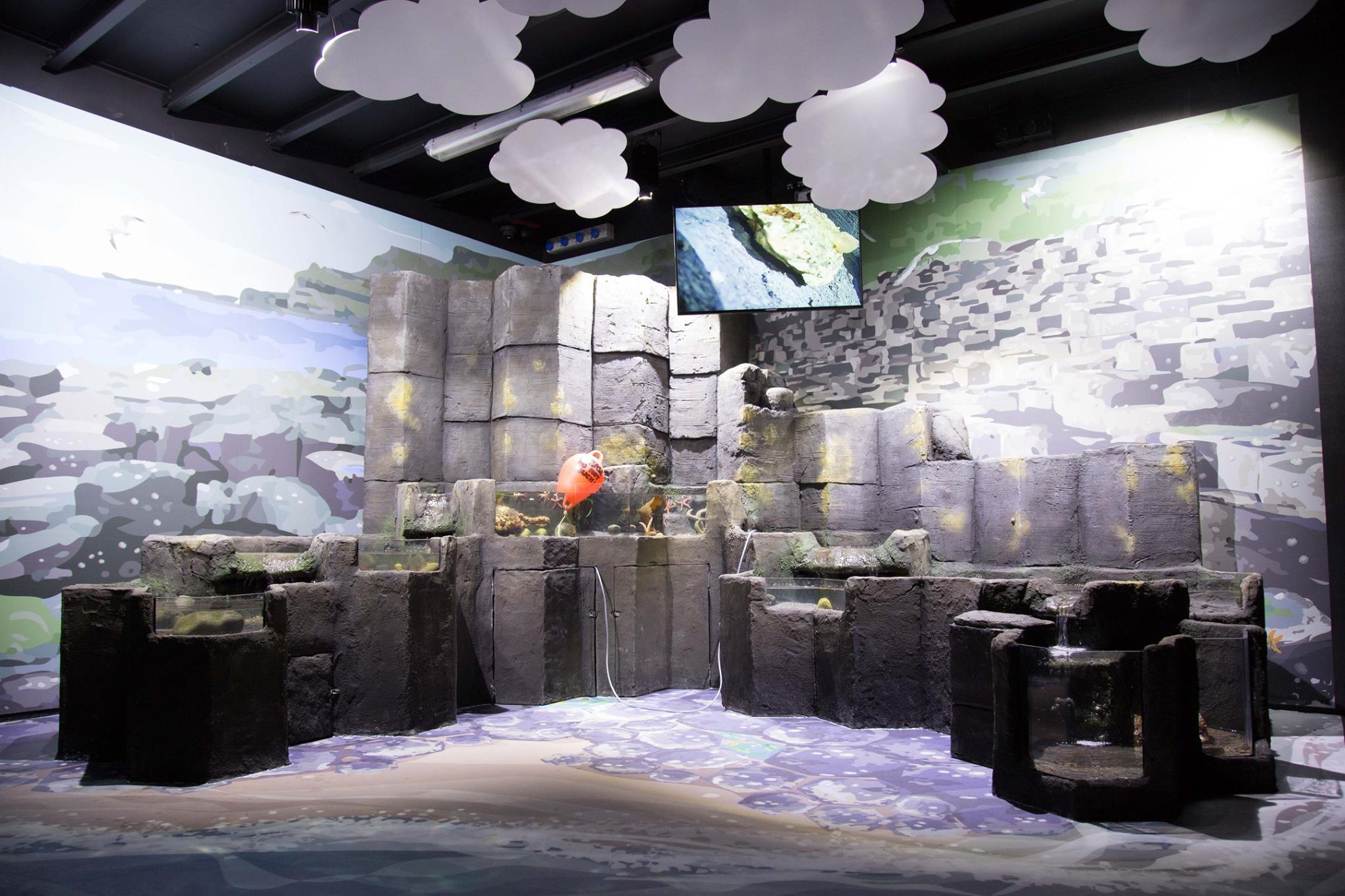 This images above shows the Rockpool area when the installation was complete.
Electricity Exhibition
The Electricity exhibition contains a series of new 3D interactive features which displays the sparks and flicks of static electricity given off by creatures like electric eels.
A huge life size eel sculpture is mounted on the wall, which gives off a cracking noises/sound waves as the visitor (the prey) approaches. Freeway Projects designed the information display graphics surrounding the eel, and the screen graphics for the interactive touch screens, for this exhibition.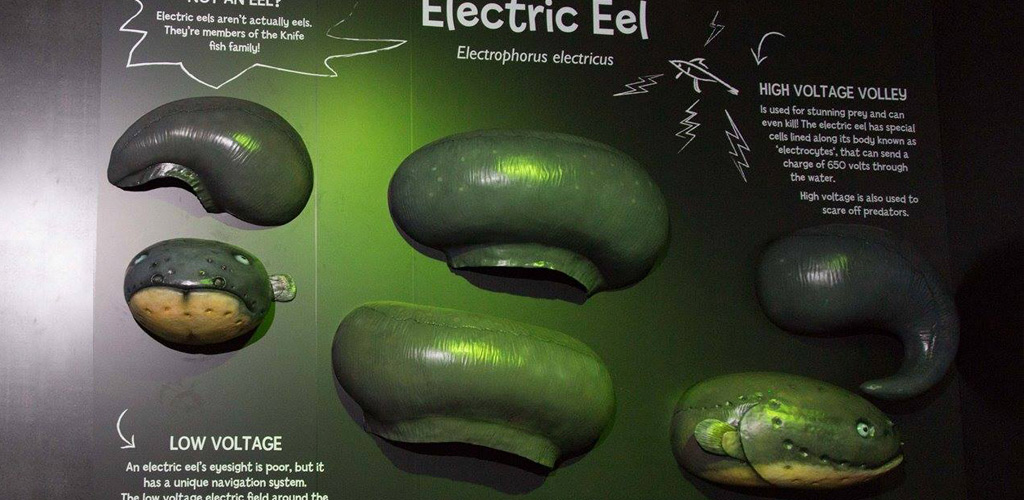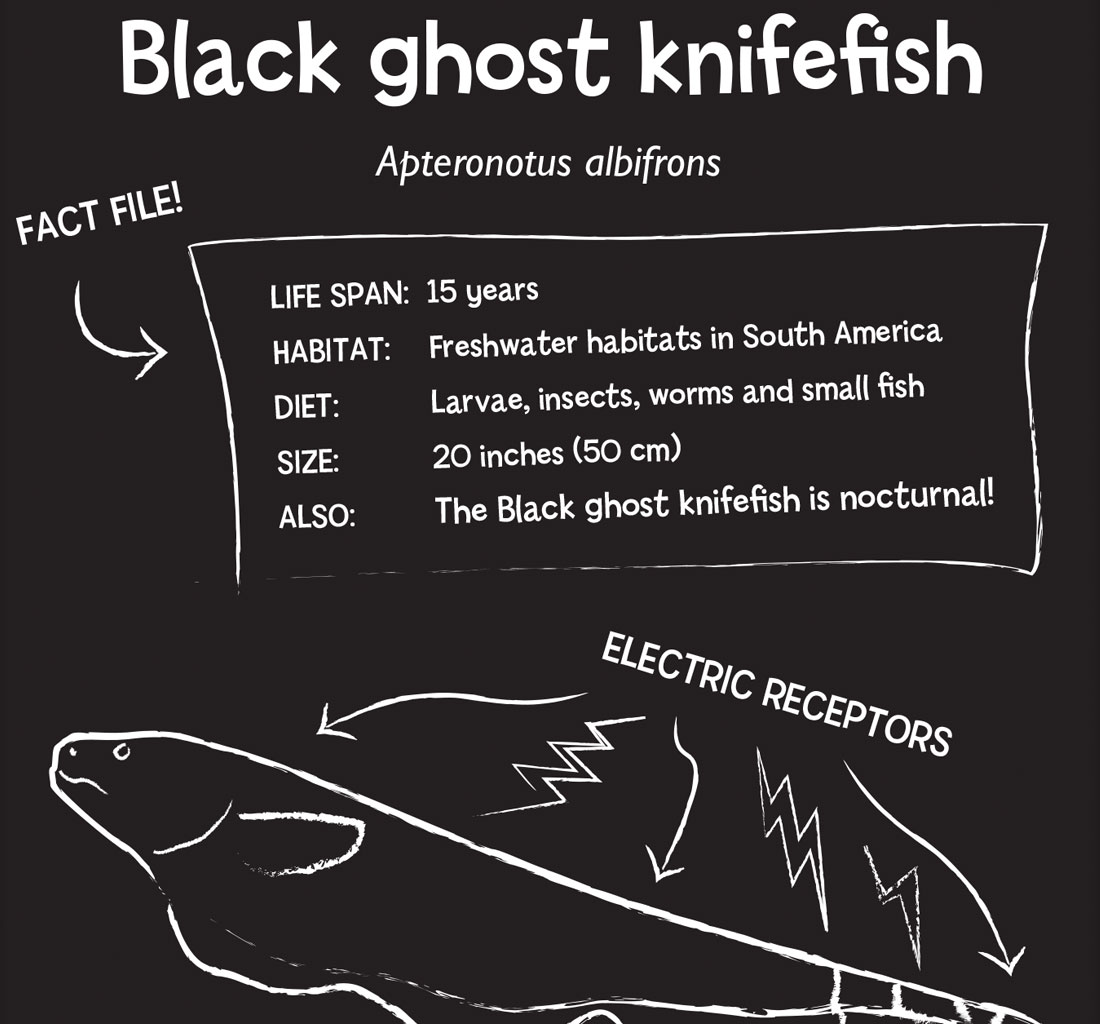 "Anna the designs look great, thank you! They have completely tranformed the exhibition area."